15. Rudolfsheim-Fünfhaus
Rudolfsheim-Fünfhaus is the 15th district of Vienna and is one of the smallest districts of the capital city with a total area of only 3.92 km². The 15th district is densely populated as there live around 76,109 citizens. It is a classic working-class district which population consists of 37% of foreigners.
The buildings are mostly built in Art Nouveau style and surrounded by green areas. There are approx. 2,699 residential buildings, 1,720 of them were built before 1919 and 274 after the year 1991. The 15th district has hardly any new building sites and, thus, the district`s renovation was carried out by reconstruction of old buildings and roof extensions. Notice that the average living space in Rudolfsheim-Fünfhaus is around 61 m² and the living space per head is approx. 31 m².
The real estate market in the 15th district is influenced by the proximity to the train station Westbahnhof. There is not only a very developed transport system including the two subway lines U3 and U6, tramway lines, busses and trains but also a shopping centre with over 90 shops on 17,000 m² and a direct access to the shopping street Mariahilferstraße. All this creates a high demand for rental apartments. The purchase price for living space is approx. € 5,400/m² in case of first occupany, € 3,950/m² otherwise and the rental price is around 11.20/m².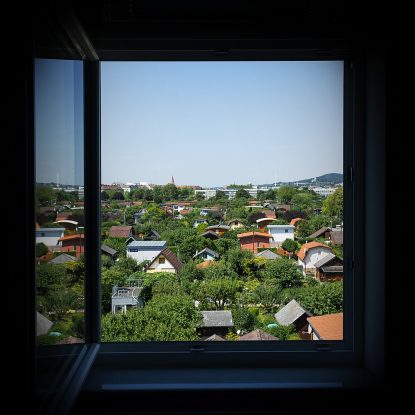 In Rudolfsheim-Fünfhaus there are also numerous tourist attractions: the indoor arena and convention centre Wiener Stadthalle where the Eurovision Song Contest took place in 2015; the waterworks installation Wiener Wasserwelt. Furthermore, the district is not far away from the central of Vienna and from the shopping street Mariahilferstraße. By the way, the office of MKR Real Consulting GmbH is also located in the 15th district with a rambling view (from all of our workplaces!) on an allot settlement with green areas and an impressive hilly landscape.